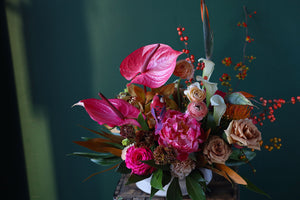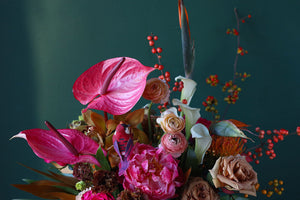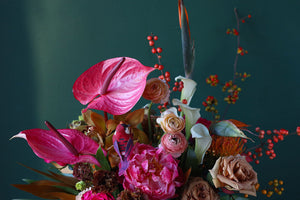 Cranberry Bliss
By Forevermark Flowers.

Adorn your Thanksgiving table with the "Cranberry Bliss" floral arrangement, a luxurious display of seasonal cheer. Vibrant pink anthuriums and lush peonies take center stage, flanked by delicate calla lilies and warm-hued roses. Accents of red berries and golden boughs weave through the bouquet, reflecting the joy and richness of festive gatherings. This centerpiece is designed to be a conversation starter, enhancing the beauty of your dining experience with its splendid array of colors and textures.
Estimated Size
Crafted mainly with:
 Anthuriums, Bird of paradise, Calla lily, Peony and Roses. 
*Due to seasonal availabilities, some flowers may be substituted for a flower of equal beauty, quality, and price*
To learn how to take the best possible care of your flowers, please click 
here
.