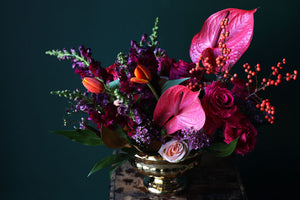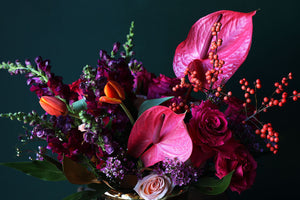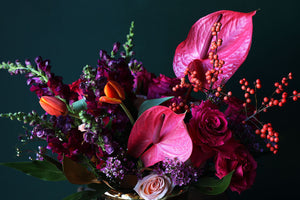 Waltz of The Flowers
 A symphony of blossoms that dances to the rhythm of natural beauty. This opulent arrangement is a harmonious medley of vibrant pink anthuriums, rich purple snapdragons, and romantic deep magenta roses. Delicate sprays of tiny purple flowers and playful orange tulips add notes of whimsy, while berries in autumnal hues bring a touch of the wild. Each flower is carefully selected and arranged in an elegant, golden vase, creating a visual feast that sways with color and life.
Estimated Size
Crafted mainly with:
 Anthuriums, Snapdragons,  Tulips and Roses. 
*Due to seasonal availabilities, some flowers may be substituted for a flower of equal beauty, quality, and price*
To learn how to take the best possible care of your flowers, please click 
here
.