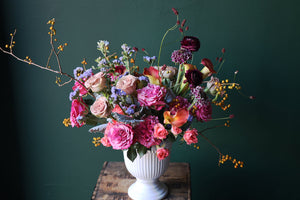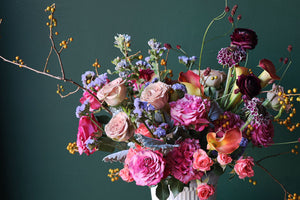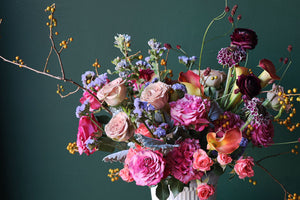 Velvet Twilight
Surrender to the festive enchantment with a cornucopia of floral splendor, where roses and calla lilies compose a symphony as luxurious as any fête. Let a centerpiece of such elegance crown your holiday tablescape, a gathering of the season's most exquisite blooms poised in a classic white urn. Ideal for gracing both Thanksgiving feasts and Yuletide revelries, this bouquet adds a whisper of the Roaring Twenties' sophistication to your celebrations. Procure the quintessence of holiday elegance now, a statement piece handcrafted to cast a glow as warm as a festive hearth.
Estimated Size
Crafted mainly with:
Roses, Ranunculus, Scabiosa a

nd calla lilies 
*Due to seasonal availabilities, some flowers may be substituted for a flower of equal beauty, quality, and price*
To learn how to take the best possible care of your flowers, please click 
here
.