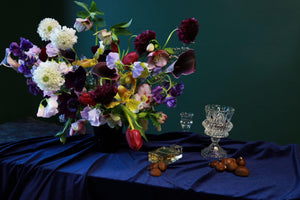 True Beauty
By Forevermark Flowers, this arrangement is fusing rich shades of Goldenrod
, Citrine Yellow, Blue-Violet, and Burgundy. 
This arrangement features a curated selection of fresh flowers around the world
Estimate Blooms Size
Crafted with blooms mainly including:
Tulips, Calla ,Sweet peds, Eucalyptus
Due to seasonal availabilities, some flowers may be substituted for a flower of equal beauty, quality, and price.
Learn how to take the best care of your blooms, please click 
here
.
 flower delivery, fresh flower,  get well flowers, newton flower shop, Boston flower shop, pastel flower arrangement,  flower gift, gift for her, flower for pastel flowers, soft pastel, valentine flower delivery, valentine day flower delivery, valentine flower arrangments, valentine rose, flower for valentine, gift for valentine, flower for her, flower ideas, luxe flowers, propose flowers, valentine bouquets, romantic gift, romantic flowers, romantic bouquets, gift for valentine, flower for valentine, soft pastel flowers, pastel tone flowers, ranunculus flowers, anemone, umbrella fern,lavender flowers, lavender flower arrangement, purple flowers, purple flower arrangement