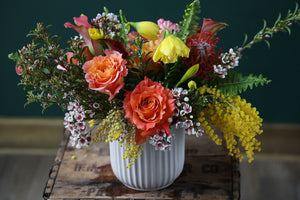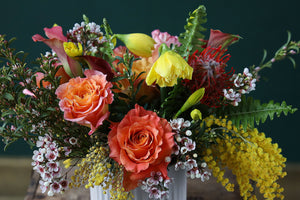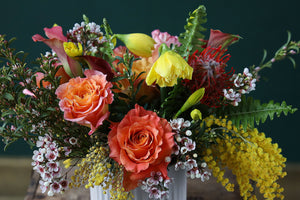 The Garden Collection
An eye-catching flower arrangement comprised of garden roses, narcissus, Cymbidium orchids, and mimosas is a visual delight. The warm and inviting garden roses, with their soft and romantic blooms, offer a cozy atmosphere, while the bright and sunny narcissus brings a burst of optimism. The exotic and delicate Cymbidium orchids add a hint of luxury to the bouquet, and the playful and fluffy mimosas contribute to its whimsical charm. This blend of flowers is ideal for adding color and vitality to any setting, be it in a vase or in a garden. The vibrant colors and fresh scents of these flowers evoke feelings of happiness, hope, and rejuvenation, making it a true celebration of spring.
Estimated Size
Crafted mainly with:
Cymbidium orchids, Roses, Narcissus, and Mimosa

*Due to seasonal availabilities, some flowers may be substituted for a flower of equal beauty, quality, and price*
To learn how to take the best possible care of your flowers, please click 
here
.