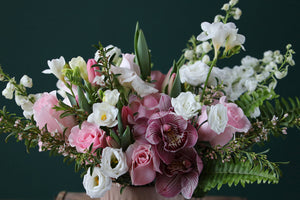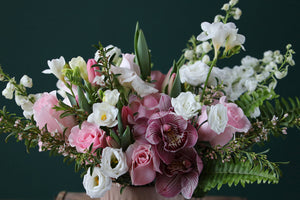 Spring Symphony
A bright spring flower arrangement featuring Cymbidium orchids, roses, narcissus, and tulips is a celebration of the season's vibrant energy and color. The delicate, exotic beauty of the Cymbidium orchids provides a touch of luxury, while the soft, romantic roses bring a warm and inviting atmosphere. The cheerful, sunny blooms of the narcissus and tulips bring a pop of brightness and optimism to the arrangement, reminding us of the beauty and renewal of the season. This combination of spring flowers is perfect for brightening up any space. The cheerful colors and fresh scents of these flowers evoke feelings of happiness, hope, and renewal, making this arrangement a true celebration of spring.
Estimated Size
Crafted mainly with:
Cymbidium orchids, Roses, Narcissus, and Tulips

*Due to seasonal availabilities, some flowers may be substituted for a flower of equal beauty, quality, and price*
To learn how to take the best possible care of your flowers, please click 
here
.