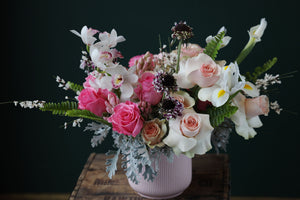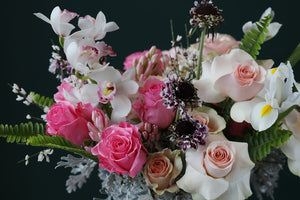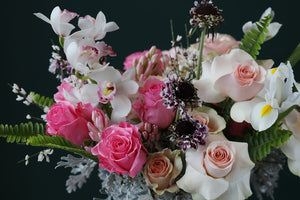 Our Story
This arrangement infuses rich shades of Carnation Pink
, Coral Pink
,
 Champagne white, and Violet. It
 features a curated selection of fresh flowers from around the world
Estimated Size
Crafted mainly with:
Iris, Scabiosa, Hyacinth

, Garden Rose

, and Cymbidium Orchid
*Due to seasonal availabilities, some flowers may be substituted for a flower of equal beauty, quality, and price*
To learn how to take the best possible care of your flowers, please click 
here
.
#valentine's day#Happy valentine's day#valentine week#valentine gifts for him
#valentine gifts for her#valentine day quotes#Crush Crush#Puppy love#Cuddle#Red
#Cupid#Ribbon#Dance#Ring#Stunning#Ross#Loving#Lovers#I love yo#In love#XOXO#Forever#Newton Florist #Forevermark Flowers #Thank you, #Happy birthday, #Party, Celebration, #Spring flower, #gift, #newton #flower delivery, #Boston flower delivery, #flower delivery, #fresh flower, #get well #flowers, # newton flower shop, #Boston flower shop, # chestnut hill flower shop, #chestnut hill flower delivery, #purple flower, flower gift, #gift for her, #pastel flowers, #soft pastel flowers, #purple flower arrangement, #garden-style bouquet,garden-style flower arrangement, #basket flower arrangements, #basket flower, #gift basket, #wildflowers, #winter flower #white flower arrangement, #large flower arrangement, #centerpiece, #coffee table flowers, #dining table flowers, #the best flower shop in Newton, #Boston florist, #newton florist, #best newton flower shop, sympathy flowers, #Holiday Collection, #Holiday Flowers, #Chestnut Hill Floral, #Chutsnut Flower Shop, #Chestnut Hill Flower.