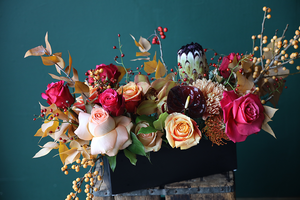 Opulence and Intrigue
Taking a departure from traditional autumnal colors, this arrangement embraces deeper, more mysterious tones to create an elegant and unconventional centerpiece.
Featuring velvety foliage, these deep hues serve as a canvas for the vibrant flowers.
Opulent and intriguing, this arrangement can be a captivating and stylish choice, adding an unexpected twist to the holiday decor.
20" long x 10" wide