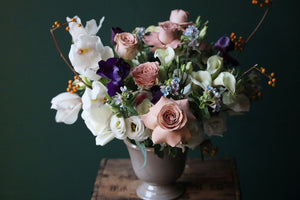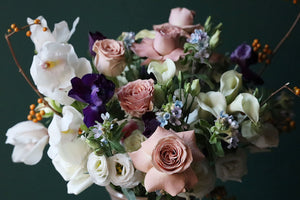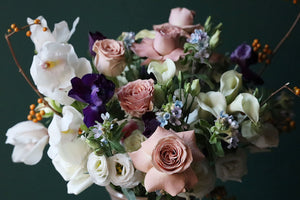 United Blooms
By Forevermark Flowers.

This exquisite floral arrangement whispers a tale of elegance and serenity, a gentle symphony of nature's artistry. Soft petals of roses and lisianthus bloom in harmony, their delicate hues a tender embrace. Slender calla lilies grace the ensemble with their sleek curves, while the bold anemones add depth with their dark, mysterious centers. Snapdragons reach skyward, lending a touch of wildness, as the subtle waxflowers weave in whispers of texture. Together, they create a soothing ballet of blossoms, a quiet celebration of beauty in its most natural form.
Estimated Size
Crafted mainly with:
Lisianthus, Roses, Calla Lilies, Anemones, Snapdragon  
*Due to seasonal availabilities, some flowers may be substituted for a flower of equal beauty, quality, and price*
To learn how to take the best possible care of your flowers, please click 
here
.