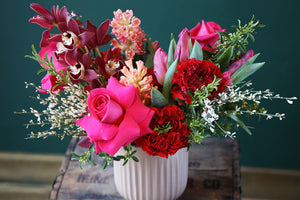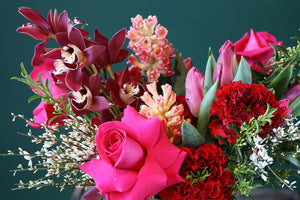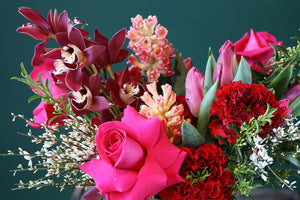 February Paradise
This arrangement infuses rich shades of decadent fushia, classic red, and mystic maroon. Embrace the romantic colors of this holiday with these fresh flowers and hints of tropical scents. 
Estimated Size
Crafted mainly with:
Garden Roses, Dutch tulip, and Cymbidium 
*Due to seasonal availabilities, some flowers may be substituted for a flower of equal beauty, quality, and price*
To learn how to take the best possible care of your flowers, please click 
here
.
#mother's day flower delivery#mother's day gifts#mother's day flowersr#Newton Florist #Forevermark Flowers #Thank you, #Happy birthday, #Party, Celebration, #Spring flower, #gift, #newton #flower delivery, #Boston flower delivery, #flower delivery, #fresh flower, #get well #flowers, # newton flower shop, #Boston flower shop, # chestnut hill flower shop, #chestnut hill flower delivery, #purple flower, flower gift, #gift for her, #pastel flowers, #soft pastel flowers, #purple flower arrangement, #garden-style bouquet,garden-style flower arrangement, #basket flower arrangements, #basket flower, #gift basket, #wildflowers, #winter flower #white flower arrangement, #large flower arrangement, #centerpiece, #coffee table flowers, #dining table flowers, #the best flower shop in Newton, #Boston florist, #newton florist, #best newton flower shop, sympathy flowers, #Holiday Collection, #Holiday Flowers, #Chestnut Hill Floral, #Chutsnut Flower Shop, #Chestnut Hill Flower.