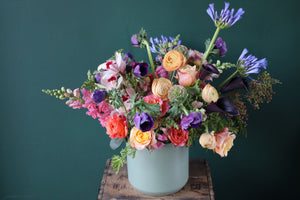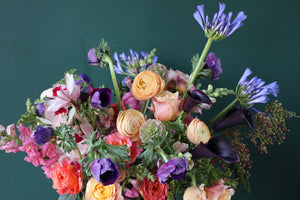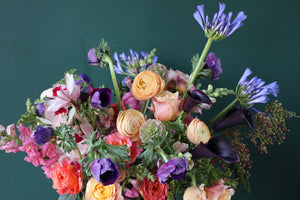 Homecoming Harmony
This lush flower arrangement exudes the warmth and cheer of the holiday season in Boston. The rich tones of the ranunculus and anemones reflect the festive spirit, making it perfect for Thanksgiving displays or Christmas decor. Its palette of deep reds and vibrant oranges evokes the cozy ambiance of holiday gatherings and joyful celebrations. Sought after by those searching for a 'Thanksgiving Floral Centerpiece' or 'Thanksgiving Flower Decor,' this bouquet is poised to be the centerpiece of any festive setting.
Estimated Size
Crafted mainly with
Ranunculus, Snapdragons, Anemones, Agapanthus, Scabiosa, Greenery and Foliage 
*Due to seasonal availabilities, some flowers may be substituted for a flower of equal beauty, quality, and price*
To learn how to take the best possible care of your flowers, please click 
here
.