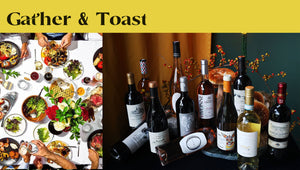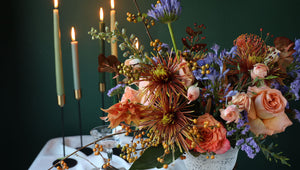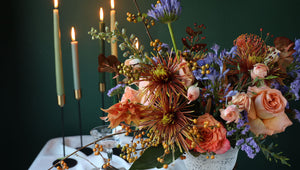 Holiday Bloom & Vintage- Single Wine with Flower Pairing
Please be advised that you must be at least 21 years of age to access this page. If you do not meet this age requirement, we kindly request that you exit this webpage. Thank you for your understanding. 
Embrace the holiday spirit with our exquisite Holiday Wine & Bloom Ensemble, designed to celebrate your shared journey. Choose from our selection of rich reds, crisp whites, and sparkling champagnes, each perfectly matched with enchanting bouquets that symbolize your love. Relax and reminisce about cherished memories as our luxurious pairings transform your holiday celebration into an unforgettable experience.
Benefit from free delivery across Newton, Chestnut Hill, Needham, Wellesley, Brighton, Weston and Brookline. For details on our delivery service, call us at 617-818-7699 or 760-412-2619 before placing your order.
 Order Instruction 
1. Choose Your Preferred Color Theme For The Floral Arrangement
Our Designer's Choice floral designer delivers freshly designed, stunning floral arrangements that epitomize sophistication, handcrafted by artisan florists with the freshest blooms for those moments that require pure elegance.
PLEASE NOTE: The photo serves as a style guide only; actual contents may vary depending on seasonal flower availability.
2. Pick Your Favorite Vineyard Country
3. Select Your Signature Wine Variety
Every bottle chosen for your purchase is a treasure for any wine enthusiast, reliably earning scores of 90 or above. Your wine selection is assured to embody excellence, each rating validated by the most respected wine critics across the globe.              Wine Spectator /Robert Parker's Wine Advocate / Vinous /James Suckling / Decanter

4. Special Instructions - Note any allergies or other considerations



Liquor Sale Compliance Guidelines
When you place an order for any of our alcohol-related products through our website, we kindly ask that you agree to these terms and conditions. Thank you for your cooperation!

You are 21 years of age or older and are legally allowed to purchase alcohol.

You will not allow anyone under the age of 21 to consume the wine.

You will provide valid identification to verify your age upon delivery.

You understand that the delivery driver may refuse to deliver the wine if you or anyone at the delivery address is unable to provide valid identification or appears to be intoxicated.

You will not resell the wine to anyone under the age of 21.

You acknowledge that we are only able to ship wine within the Boston region and that it is your responsibility to check whether we can ship to your location.

By accepting delivery, you agree that we hold no responsibility for any damage or breakage that may occur post-delivery, and you release us from liability for any such events.

Wine production returns are accepted solely before delivery. Once a sale is finalized and the product is delivered, all sales are considered final, and we are unable to accept returns or provide refunds. For any returns or refunds for the floral arrangement please refer to the floral return policy.