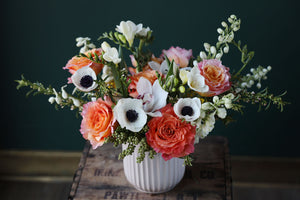 Fresh Start
Featuring Cymbidium orchids, garden roses, and anemones is a stunning display of elegance and sophistication. The delicate, exotic beauty of the Cymbidium orchids provides a luxurious touch, while the garden roses add a soft, romantic feel with their velvety petals and rich colors. The delicate, whimsical anemones bring a touch of playfulness and youthfulness to the arrangement, creating a harmonious balance of beauty and charm. Whether for a special occasion or simply as a way to bring the beauty of nature into your home, this arrangement is sure to captivate and enchant you.
Estimated Size
Crafted mainly with:
Cymbidium orchids, Garden Roses, and

Anemone
*Due to seasonal availabilities, some flowers may be substituted for a flower of equal beauty, quality, and price*
To learn how to take the best possible care of your flowers, please click 
here
.