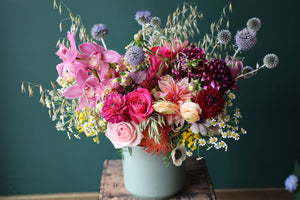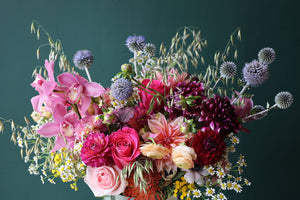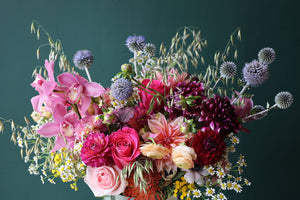 Flames of Passion
Bold petals, ranging from sunny yellows to fiery reds, mirror the essence of the season, celebrating the spirit of life and energy. As the days grow longer, the dahlias unfurl their exquisite blooms, painting the canvas of summer with a burst of color. Evoke a feeling of love and awe with this passionate summer arrangement. 
Estimated Size
Crafted mainly with:
Garden Roses, Ranunculus, Dahlias, Cymbidium, Anemone, Seasonal greens
*Due to seasonal availabilities, some flowers may be substituted for a flower of equal beauty, quality, and price*
To learn how to take the best possible care of your flowers, please click 
here
.