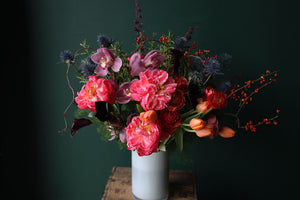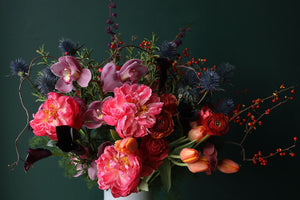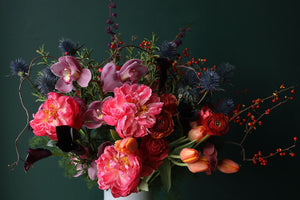 Festive Elegance
By Forevermark Flowers.

 It's a luxurious and vibrant flower arrangement that radiates with the warmth of the holiday season. Featuring full-bodied pink peonies, delicate orchids, and fiery ranunculus, this centerpiece is a celebration of color and texture. Interspersed with thistle-like blooms and sprigs of red hypericum berries, it adds a touch of wild beauty. The natural arrangement cascades gently over the sides of a sleek, white cylindrical vase, making it an ideal focal point for a holiday dining table. The rich, contrasting backdrop of the deep green wall highlights the arrangement's hues, further enhancing its allure for a festive occasion.

Estimated Size
Crafted mainly with:
Peonies, Orchids Ranunculus, Tulips, Thistles and Hypericum berries
*Due to seasonal availabilities, some flowers may be substituted for a flower of equal beauty, quality, and price*
To learn how to take the best possible care of your flowers, please click 
here
.