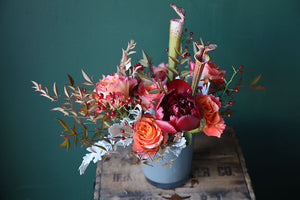 Exceptional and Unusual
Introducing the Exceptional and Unusual arrangement, a sophisticated & unique addition to any home. This arrangement showcases a beautiful contrasting combination of peony, pitcher plants, and fall berries, sure to be a timeless talking point. 
Let its intricate details captivate and reflect your interest in decorating with florals you can't get anywhere else. 
Dimensions 10" wide x 15" high