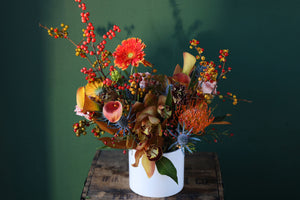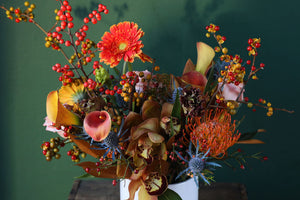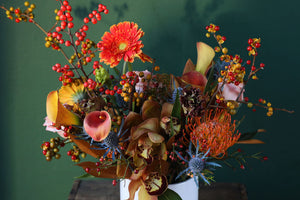 Autumn Serenade
Encapsulates the essence of fall in a stunning display of flora. This arrangement is a poetic composition of fiery orange gerberas, delicate peach-toned calla lilies, and exotic orchids that whisper the tales of the autumn woods. Pops of red berries and golden-yellow boughs blend harmoniously, creating a warm, inviting palette. The entire ensemble is thoughtfully placed in a modern white vase, giving a nod to contemporary elegance while celebrating the rustic beauty of the season.
Estimated Size
Crafted mainly with:
Gerberas, Calla lilies, and Cymbidium Orchids
*Due to seasonal availabilities, some flowers may be substituted for a flower of equal beauty, quality, and price*
To learn how to take the best possible care of your flowers, please click 
here
.