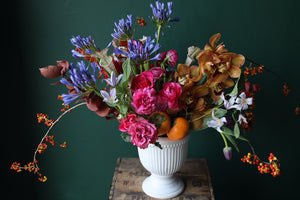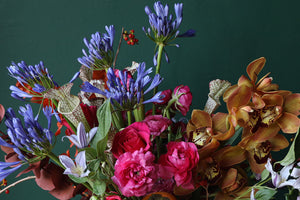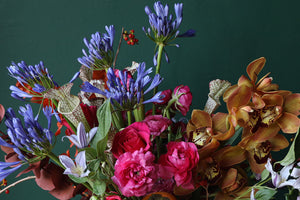 Autumn Harvest
By Forevermark Flowers.

This centerpiece is a vibrant and abundant representation of the fall season. The arrangement showcases luxurious deep pink roses alongside the exotic warmth of brown and gold orchids. Interwoven within are the vivid purple tones of agapanthus and the delicate white petals of clematis, creating a captivating display with depth and variety. Adding to the festive ambiance are accents of hypericum berries, while the inclusion of persimmons lends a distinctive seasonal touch. Presented elegantly in a classic white urn, this arrangement pays homage to the richness of autumn, making it an ideal choice to adorn any holiday dining table with its innate opulence and charm.

Estimated Size
Crafted mainly with:
 Lily of the Nile, Cymbidium orchids, Roses, Bittersweet, Tulips and Clematis
*Due to seasonal availabilities, some flowers may be substituted for a flower of equal beauty, quality, and price*
To learn how to take the best possible care of your flowers, please click 
here
.