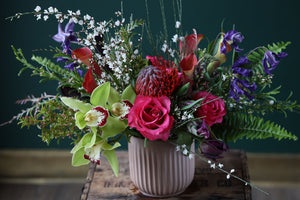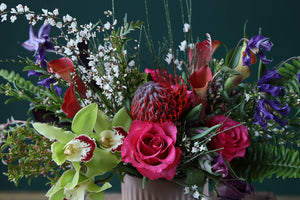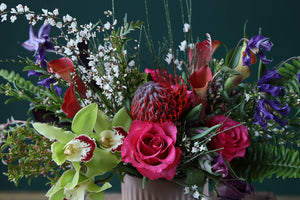 A Breath of Fresh Air
A tropical-style flower arrangement featuring Cymbidium orchids, roses, and calla lilies creates a lush, exotic atmosphere. The delicate, exotic beauty of the Cymbidium orchids provides a touch of luxury, while the soft, romantic roses bring a warm and inviting feel. The elegant, sculptural blooms of the calla lilies add a touch of sophistication and grace to the arrangement, making it a true work of art. This combination of flowers is perfect for creating a tropical paradise, whether in a vase or arranged in a garden. The lush, exotic blooms and fresh scents of these flowers evoke feelings of relaxation, happiness, and adventure, making this arrangement a true celebration of the tropics.

Estimated Size
Crafted mainly with:
Cymbidium orchids, Roses, and Calla lily

*Due to seasonal availabilities, some flowers may be substituted for a flower of equal beauty, quality, and price*
To learn how to take the best possible care of your flowers, please click 
here
.