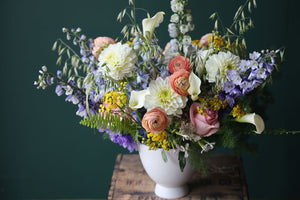 Summer's Playground
The summer days pass by like a dream, with the soft-toned flowers reminding us to pause, breathe, and appreciate the beauty that surrounds us. Their charm is a reminder that sometimes, the most profound beauty lies in the subtlest of colors. The moments will pass, but the memories will last a lifetime.
Estimated Size
Crafted mainly with:
Garden Roses, Ranunculus, Calla Lily, Delphinium, Seasonal greens
*Due to seasonal availabilities, some flowers may be substituted for a flower of equal beauty, quality, and price*
To learn how to take the best possible care of your flowers, please click 
here
.