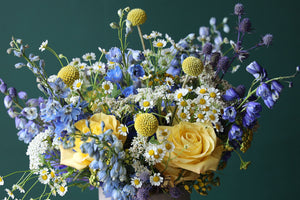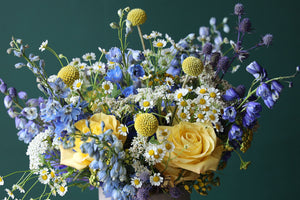 Butter Kissed Beauties
Soft Yellow Flowers that Melt Your Heart. These beautiful blue and buttery blooms will give you a feeling of joy and serenity for all summer occasions. 
Estimated Size
Crafted mainly with:
Garden Roses, Delphinium, Billy Ball, Queen Anne's Lace, Seasonal greens
*Due to seasonal availabilities, some flowers may be substituted for a flower of equal beauty, quality, and price*
To learn how to take the best possible care of your flowers, please click 
here
.